BUILD BACK BETTER: The Truth Behind The Slogan
AS world leaders daily promote the same ominous three-word-slogan, social media users have equally united in asking one simple question – 'what does it mean'? Here's the truth behind what has become a viral hotbed for online conspiracy.
As the old adage goes, "a lie makes it half the way around the world while the truth is putting its shoes on". And this cannot be more relevant than in the modern age of social media, where fact-absent speculations propel those lies to greater distances, and at supersonic speed.
What is more, with the growth of conspiracy theories, confirmation bias, and a reasonable distrust in the mainstream media, it's fair to say that even when the truth does indeed get those clogs on and catches up, it is often rejected – hung from the telephone wire by its laces while the populace march endlessly beneath it in search of answers that dangle just metres from their overworked cerebrums.
The current suspicion, even in some cases hysteria, over the 'new' slogan 'Build Back Better' being drummed into the public's consciousness through printed podiums and robotic speeches, continues to draw intrigue and claims of a sinister global plot – mainly connected to 'The Great Reset'.
The peddling of claims connecting the anti-vaxxer narrative and 'The Great Reset' come mainly from the anti-vaxxer community itself, in what appears to be a concerted effort to claim that the current coronavirus crisis is a 'plandemic' (i.e. a hoax) engineered to allow socialists and marxists to alter the world and control the populace. The narrative also heavily relies on spreading distrust in global leaders and their promotion of a Covid vaccine – often ominously attempting to connect Bill Gates, George Soros, and left-wing political leaders in a plot to dominate mankind, influence huge financial gains for the pharmaceutical industry (aka 'Big Pharma'), and embark on their alleged nefarious agenda through the spreading of fear and the dangling of a carrot in the form of a vaccine.
This 'Great Reset' – as conspiracy theorists would have you believe – is now being promoted by world leaders, from Boris to Biden, under one simple slogan: 'Build Back Better'.
Yet The Great Reset – a mere idea put forward by the World Economic Forum – has no connection with the slogan; and in fact, 'Build Back Better' isn't anything 'new' at all.
The phrase first became popular in 2006 during the ongoing relief effort in response to the devastating Tsunami that rocked Japan and destroyed the lives of a huge swathe of the population two years prior. As world leaders and organisations began analysing both the economic and humanitarian costs that the disaster had inflicted, it became clear that a united effort was needed to ensure that nations learned from such events and improved their infrastructures and defences to limit impact from future disasters.
Following the Tsunami, "Build Back Better" was a slogan and strategy pitched to the UN by Japan. It then became adopted and used by governments/UN member states across the world as an effective slogan for post-disaster strategies and to provide a clear message to citizens following such disasters, both natural and man-made.
During the 3rd UN World Conference on Disaster Risk Reduction, Japan's PM, Shinzo Abe pitched the strategy in his opening speech, saying: "'Build Back Better' is generally understood to use the disaster as a trigger to create more resilient nations & societies than before." The slogan was then put forward by the PM to head the proposed strategy for a future strategy in a document called the United Nations' Sendai Framework for Disaster Risk Reduction.
The document and strategy had been carefully constructed after years of research and planning, and set out four specific priorities for UN member states to agree upon and action:
Understanding disaster risk;
Strengthening disaster risk governance to manage disaster risk;
Investing in disaster risk reduction for resilience;
Enhancing disaster preparedness for effective response, and to "Building Back Better" in recovery, rehabilitation and reconstruction.
To support the assessment of global progress in achieving the outcome and goal of the Sendai Framework, the document listed seven global targets:
Substantially reduce global disaster mortality by 2030, aiming to lower average per 100,000 global mortality between 2020-2030 compared to 2005-2015;
Substantially reduce the number of affected people globally by 2030, aiming to lower the average global figure per 100,000 between 2020-2030 compared to 2005-2015;
Reduce direct disaster economic loss in relation to global gross domestic product by 2030;
Substantially reduce disaster damage to critical infrastructure and disruption of basic services, among them health and educational facilities, including through developing their resilience by 2030;
Substantially increase the number of countries with national and local disaster risk reduction strategies by 2020;
Substantially enhance international cooperation to developing countries through adequate and sustainable support to complement their national actions for implementation of the framework by 2030;
Substantially increase the availability of and access to multi-hazard early warning systems and disaster risk information and assessments to the people by 2030.
Essentially, the proposed strategy would legally bind nations into a promise to restore physical infrastructure, social systems and shelter, and revitalise livelihoods, economies and the environment following national or international disasters, such as tsunamis, earthquakes, famines, wars, and pandemics such as the ongoing Coronavirus pandemic.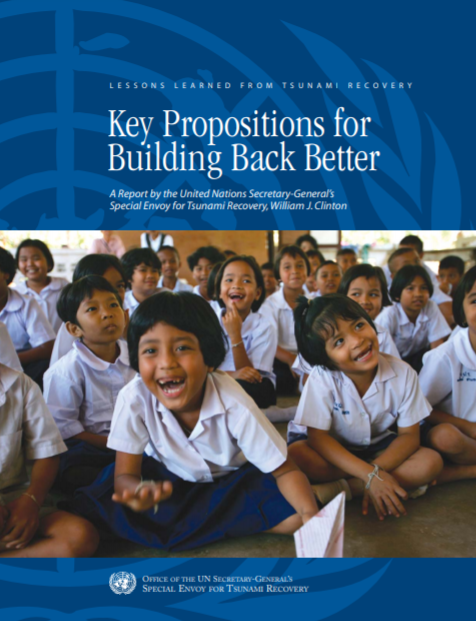 After deliberation, the strategy and its slogan was official adopted by the United Nations member states between the 14th and 18th March, 2015, at the World Conference on Disaster Risk Reduction, in Sendai, Japan, where the Japanese PM had given his speech, and was endorsed by the UN General Assembly in June 2015.
The strategy then sat there – ready and waiting behind the 'break in case of emergency' boxes in every government office, ready for an emergency, or 'disaster', and was naturally reverted back to as soon as the Coronavirus pandemic began to take its toll on world economies and livelihoods.
'BBB', as the slogan and strategy came to be abbreviated, was effectively used following the earthquake of Central Java in 2006, where it was used as the template to rebuild houses, and put into place earthquake-resistant technologies to limit the impact of future earthquakes and tsunamis. I.e. they quite literally 'built back better'.
So, in light of the current pandemic crisis and the destruction it is inflicting on both human life and the economy, one can easily see why world leaders of nations who signed up to the UN's strategy have united in spreading this clear repetitive message and are now planning to 'build back better' to prevent such devastation from happening again, while in the process seeking to seize the opportunity to improve and strengthen certain aspects of society and eradicate weaknesses that make nation states vulnerable to future economic and humanitarian threats.
That is the truth behind the 'Build Back Better' slogan.
Or, of course, one could simply ignore the facts in favour of what is now becoming a very dangerous and unnecessary fiction – and continue to sprint desperately away from those finely-polished leather shoes.