DIANE Abbott Thinks Uyghur Is a Country – MP Tweets Out Idiotic Apology After Caught On Call With Genocide-Deniers
ABBOTT'S at it again – this time making yet another witless and ignorant comment after admitting to being on an online meeting joined by deniers of the ongoing Chinese genocide against the Muslim Uyghurs.
After recently being caught on a zoom call in which she reiterated her infamous racist comments against white people, the Labour MP and staunch Corbyn ally confessed in a tweet: "On Saturday I took part in an online meeting entitled "Uniting against racism and the new cold war".
"I had no idea that there were people on the call who denied Chinese harassment and massacres of Muslims in Uyghur. The treatment of these communities is a human rights violation."
Her apology was quickly pounced on by critics who pointed out her ignorance of the dire situation in China, and bizarre belief that Uyghur is a place rather than a people.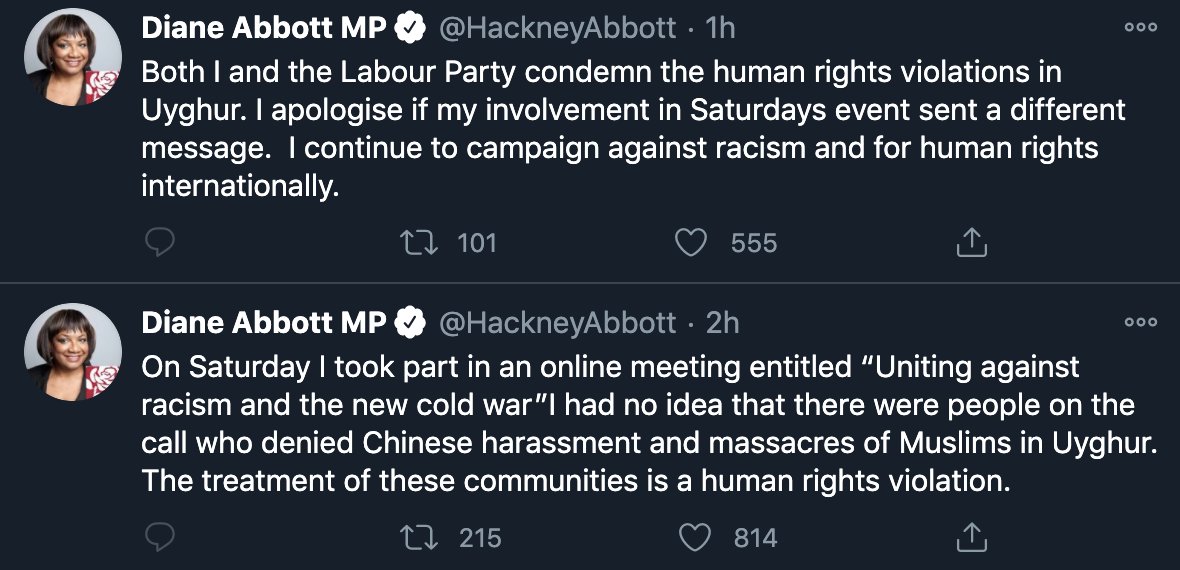 The Uyghurs are a Turkic-speaking minority ethnic group originating from and culturally affiliated with the general region of Central and East Asia.
The growing persecution of the Uyghurs has come under the media spotlight in recent months, after viral online videos were shown depicting thousands of Muslims being packed onto trains and allegedly taken to one of the 'work camps' run by the state – reminding many of scenes from the holocaust.
The Chinese government stands accused of propagating a policy of sinicization in Xinjiang in the 21st century, with critics calling this policy an ethnocide or a cultural genocide of Uyghurs, and many human rights experts calling it a genocide.
In particular, critics have highlighted the concentration of Uyghurs in state-sponsored re-education camps, suppression of Uyghur religious practices and testimonials of alleged human rights abuses including forced sterilization and contraception, and human organ harvesting.
Chinese authorities have recently confirmed that birth rates among the Uyghur community dropped by almost a third in 2018 in Xinjiang, but – true to form – denied reports of mass forced sterilization.
US senators are now backing a bid to officially declare the ongoing situation in China as a genocide.