FAR-LEFT activists from climate campaign group Extinction Rebellion were finally arrested following yesterday's incident outside the Bank of England.
Police officers in the City of London made one arrest for criminal trespass and three arrests for criminal damage, after campaigners dressed in black held banners that read "No More Fossil Fools", and sprayed the Bank of England's iconic building with a black liquid, suspected to be paint.
When asked why they had vandalised the building's front exterior, protestors said that it was part of an 'elaborate April Fool's Day prank' – yet failed to provide any further explanation, let alone a punchline.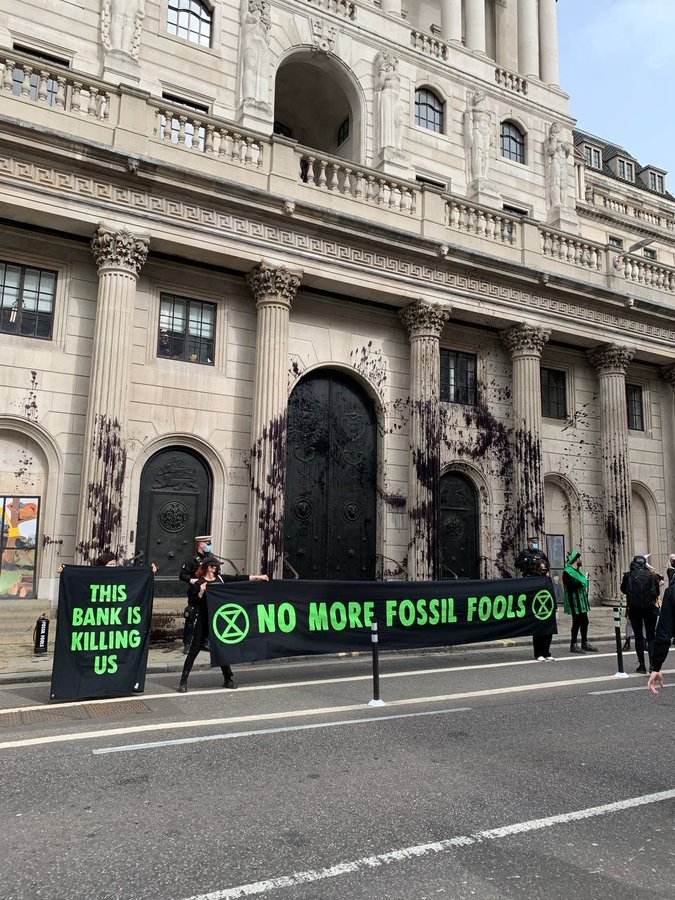 The force later added that another arrest was made for going equipped to commit criminal damage.
"The action today is part of a wave of actions by XR's Money Rebellion designed to expose the role of banks in the climate and ecological crisis," XR said in a release on its website.
"The world's 60 largest banks have funded the fossil fuel industry to the tune of $3.8 trillion since 2016."
"The action today highlights the Bank of England's failure to regulate these banks and points to the fact that it still holds investments consistent with 3.5C of warming by the end of the century."
XR said other divisions of its group were targeting private banks in Glasgow, Brighton, Cambridge and Cornwall.
Amelia Halls, 22, from Stanford, was one of the 'fossil fools' who is believed to have been arrested for aiding in the spraying of the Bank.
"It is not okay that the Bank of England can distribute money to companies that are destroying our planet whilst millions face the destruction of their future because of their actions" she said.
"The government is doing everything they can to greenwash themselves when at the same we have a financial system in this country that is actively financing companies and institutions that are destroying the planet. Their disregard for the lives of every person on this planet will not go unchallenged."