LABOUR Party In Peterborough Caught Using Convicted VOTE-RIGGER… Again
TARIQ Mahmood, the convicted vote-rigger who made national headlines after being caught helping two MPs and a string of Councillors win their seats in Peterborough, has once again been spotted working with the 'crooked borough's' Labour team.
Holding a copy of the electoral register that could only have been given to him by the local party, Mahmood brazenly posed for a snap while using the personal details to 'persuade' local residents to vote Labour in the upcoming local elections.
In 2008, Mahmood received a 15-month sentence for his part in a "systematic campaign of electoral fraud" in the city, and was imprisoned along with a Labour councillor and Peterborough's former Labour Mayor, Mohammed Choudhary.
All three were convicted of forgery over a scheme to fabricate votes for the Peterborough city council election, the four-month case costing the taxpayer over £850,000 after the crooked trio were granted legal aid.
"They were able to get hold of postal and proxy votes which belonged to voters in the central ward," prosecuting QC Anthony Leonard said at the time.
"They arranged for postal and ballot papers to be sent not to the voter but to addresses with which each defendant was connected."
Despite his proven lust for vote-rigging and disregard for British democracy (or perhaps because of it), Mahmood was quickly snapped back up by the local Labour Party, and helped win the Parliamentary seat for Labour in 2017, in which Fiona Onasanya beat popular incumbent Tory MP and staunch Brexiteer Stewart Jackson by a mere 607 votes.
MP Lisa Forbes denied using Tariq Mahmood on her official campaign team during the 2019 By-Election that took place following the arrest and imprisonment of Onasanya. The local Labour Party then dismissed investigations into their use of Mahmood as 'Islamophobic' and 'racist' in an attempt to silence the story – even sending one of their key activists to harass VoteWatch in the streets.
During a thorough investigation, VoteWatch proved – with dozens of images, video footage, and testimonies – that Forbes and her colleagues had lied about not working with him; establishing that former Labour MPs, local Labour leader Shaz Nawaz, and a number of Councillors – all close friends with Mahmood – were indeed extensively using the ballot-burglar to help run their election campaigns.
At the time, VoteWatch discovered that even an official Labour campaign video tweeted by Jeremy Corbyn featured himself, Lisa Forbes and Tariq Mahmood out campaigning in Peterborough.
Mahmood has also on several occasions been given special access into the count room by the Peterborough Labour Party, during local and general elections – a fact local officials denied until video and photographic evidence proved that, once again, they were lying in an attempt to cover-up his involvement with their party.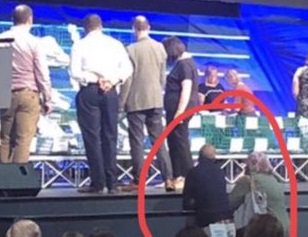 Mahmood was not only snapped inside count rooms and working with local Councillors in their campaign offices, but even acted in an official capacity as a 'teller' – provided with personal information about local residents, and sitting outside a polling station to record how locals voted.
On several occasions, residents also reported having witnessed Mahmood with 'a large group of asian men in red rosettes' intimidating voters outside a polling station in the city's East Ward.
After yet another suspicious win for Labour that saw Lisa Forbes become Peterborough's MP by a margin of just 683 votes, an investigation into Mahmood's activities went underway, discovering that the CCTV footage from a polling station used by Tariq Mahmood on the day had been 'mysteriously' erased.
VoteWatch later revealed that the polling station in question was operated by an organisation of which Mahmood was a senior member.
During the Peterborough By-Election, Mahmood and infamous Labour Councillor Shabina Qayuum (another Councillor who used Tariq to help win her seat on the council), were accused by an elderly lady from the Pakistani community who has (as the Daily Mail described) 'serious health conditions', of forcefully trying to take her postal vote from inside her home.
Despite calls from angered residents, and from Tory Paul Bristow (now Peterborough's MP), for Labour to cut all ties with the convicted crook, Labour have refused to do so.
After the 2019 by-election, Nigel Farage described Peterborough as 'another crooked borough' following VoteWatch's investigation into the local Labour Party, with the team shamelessly continuing to embroil itself in further scandals ever since.
This month, Labour Councillor Mohammed Jamil was filmed harassing a local Conservative voter outside their home in Peterborough, with Councillor Shabina Qayyum choosing to laugh rather than demand that the harassment end.
Last week, another Councillor, Amjad Iqbal, was accused of making a xenophobic and racist comment against Eastern Europeans, saying "for majority of them, dumping rubbish in a designated place such as a corner of a road was accepted in their country and they believe it is also allowed in the UK."
The comment has sparked outrage among the city's large Eastern European community, including TV chef Damian Wawrzyniak. Peterborough's local newspaper, Peterborough Today, has so far failed to cover the incident, with its political reporter, Joel Lamy (who also refused to report accurately on Tariq Mahmood's involvement with Lisa Forbes) described as being 'very left-wing'.
VoteWatch has contacted the Peterborough Labour branch for comment on why they continue to use a convicted vote-rigger on their campaign team and subject local residents to him during this election.
We will update in due course.