UPDATE: 'Mr Mason Mills' Sent To Prison For 5 Years 8 Months For £500k Covid And Betting Scams
A VILE con artist who duped thousands on social media into thinking he was Dominic Cummings has been sent to prison for orchestrating a series of widespread scams that left many of his victims in financial ruin.
Using the the name 'Mr Mason Mills' and various other alias', Myles Carter, conned his victims out of almost £500,000 over a number of years, with his most recent scam during the Covid pandemic leaving one victim tens of thousands of pounds out of pocket.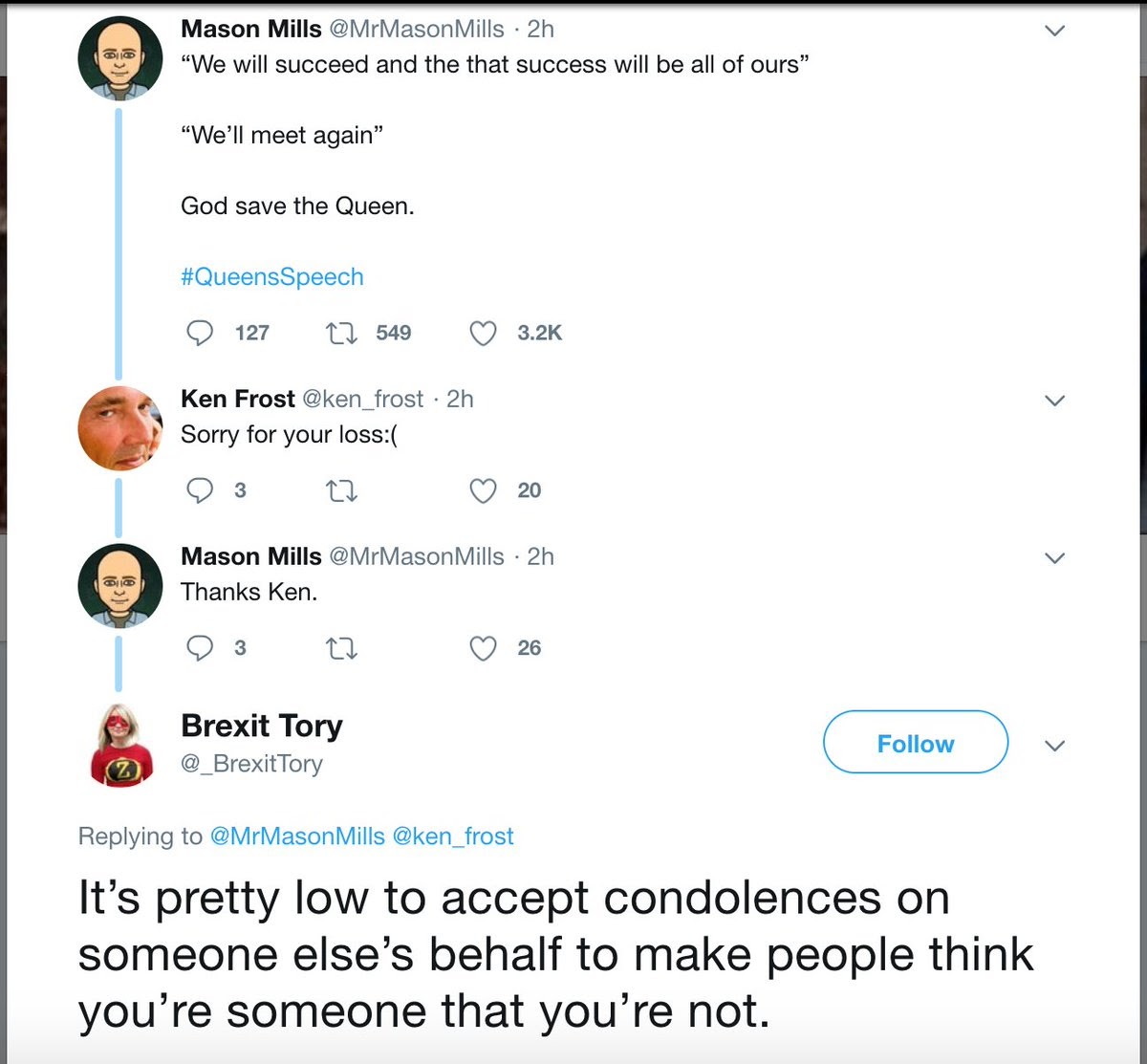 Not only did Mr Carter not campaign for Brexit, but VoteWatch revealed that he did not have any connection with MPs or government officials, and that the political information he posted as 'inside information' had in fact been garnished from the government website and various news outlets.
Using the Twitter account 'Mr Mason Mills', Carter posted often inaccurate predictions and information taken from the government website – even gaining Michael Gove and a string of political figures as followers.
In April, Mr Carter pleaded guilty to 4 charges relating to fraud, including a scam that exploited the Covid pandemic by conning donations from members of the public and from his followers online, under the false pretence that such donations would be given to struggling individuals and families.
Following VoteWatch's report and after extensive campaigning from numerous Twitter users to expose Mr Carter, a large number of previously unknown victims came forward. These victims, who had been tricked into joining the website and Discord group of 'Mr Mason Mills' had also had money taken from them, with promised refunds never delivered.
Using his followers, of whom he refers to as his 'cult', Carter even encouraged the doxxing and cruel online harassment and abuse of victims whom he had already scammed.
As a result of this, Carter's 'Mr Mason Mills' Patreon account was eventually banned. However, the fraudster continued to brainwash followers through other channels, and even up until his appearance in court today continued to show no remorse, and even refer to his many victims as 'trolls'.
The day before his sentencing hearing, Mr Carter was once again arrested – this time in connection to his 'Mr Mason Mills' scam on Discord; in particular for running an illegal NFG that once again saw people conned out of their hard-earned cash.
Upon being arrested, Carter was banned from using social media until his court appearance, and it is understood that anti-fraud police are still looking into the many further complaints of fraud made against him by former follows of 'Mr Mason Mills'.
Having a friend post a bizarre statement after his arrest, Carter, using his alias 'Mr Mason Mills', yet again referred to his victims as 'trolls', and embarked on an egotistical ramble with numerous references to his 'cult'.
Through his Discord group and Twitter account, Carter has continued to manipulate the minds of his few remaining devoted followers, telling them not to communicate with 'his enemies', and instructing them to mass block social media accounts, in an apparent attempt to prevent them from learning the truth about his crimes and character.
Myles Carter, of Northampton, has now been sentenced to 5 years and 8 months behind bars, and has been sent to Peterborough prison to begin his sentence.
Police have issued the following extensive statement:
A man who ran a series of fraudulent investment scams to con more than 100 people out of almost £500,000, and used the cash to fund a gambling habit and lavish lifestyle, has been jailed.
Myles Carter, aged 44, appeared at Northampton Crown Court today, Friday, May 7, where he was sentenced to a total of five years and eight months behind bars after admitting three counts of fraud by false representation and one of money laundering.
An investigation by Northamptonshire Police's Fraud Crime Team found Carter, of Alfred Street, Irchester, set up an intricate web of lies, fake companies and multiple social media aliases to trick at least 101 people into parting with £493,935.49 through a number of fake managed trading accounts, that he ran from May 2013 to March 2020, and even a Covid-19 savings scam he set up in March 2020.
The court heard that Carter, who also used names including Mason Mills and Paul Pritchard while he was defrauding his victims, used the money to fund a high-stakes gambling addiction and to maintain a luxurious lifestyle.
The hearing was also told how Carter had 11 previous convictions for 35 offences, many of them fraud related, including stealing from past employers, forging signatures on cheques, retaining and converting criminal property totalling over £70,000, for which he was jailed for 28 months, and making sales on eBay but never sending the goods, for which he was jailed for 17 months.
Details of the impact Carter's fraudulent activity had on his victims were read out, including how one person who lost £60,000 they withdrew from their pension had been left contemplating suicide, with others plunged into debt, losing friendships, suffering mental health issues and left struggling to trust people.
Sentencing, His Honour Judge Rupert Mayo highlighted that one of Carter's frauds centred on a supposed high-yield savings account set up to help people through the coronavirus pandemic, saying this was particularly harsh offending which exploited people's fear of Covid-19.
He added: "This was fraud carried over seven years, it was sophisticated and required significant planning and involved a large number of victims.
"They were not all vulnerable, but the stories told by victims are sad and tragic, one person contemplating suicide, others being placed in a very depressed state.
"The money you obtained was spent partly on gambling, and also on allowing yourself to live at a level that otherwise would have been completely unattainable."
He ordered that a further charge of fraud by false representation will lie on file, and made Carter subject to a five-year Serious Crime Prevention Order, to begin once he is released from prison, with a hearing to deal with confiscation orders to be held in due course.
Speaking after the hearing, fraud supervisor Bryan Pye, of the Northamptonshire Police Fraud Crime Team, said: "Carter was able to live a lavish lifestyle after scamming people into making payments to him, hiding behind a façade and pretending to be representing legitimate companies when he wasn't – it was all a complete sham.
"He has taken in a lot of people and gone to great lengths to con people into thinking that they were dealing with a legitimate business, when in fact when we looked into his activities he was taking genuine company names and either pretending to be affiliated with them, or creating new companies based on those real names in order to trick people.
"Carter probably seemed the most plausible person in the world to his victims, but our investigation showed he has a dark side to his character, he is a devious and accomplished fraudster whose aim was to fund his gambling habit and lavish lifestyle by stealing other people's hard-earned money.
"Myles Carter is a dishonest conman and I hope his time in prison affords him the chance to think about how his actions have affected his many victims. Our investigation shows Northamptonshire Police takes reports of any fraud very seriously, and we encourage anyone who believes they may have been a victim to report it."
A full account of the investigation into 'Mr Mason Mills' can be read here.
If you have been scammed by Myles Carter/Mason Mills, or have been refused a promised refund, you are urged to contact Action Fraud, the UK's national reporting centre for fraud and cyber-crime, at http://www.actionfraud.police.uk or by calling 0300 123 2040.
On a separate note, VoteWatch would like to applaud the group of Twitter users who helped to expose Myles' criminal activity, and to offer deep praise to Northamptonshire police and to the relevant agencies, including the anti-fraud team, for obtaining justice for Carter's many victims.