BBC Presenter Goes On Wild Anti-Brexit, Anti-Vaxxer Rant & Claims Racism Against White People Isn't Racism
BBC and ITV presenter Emma Kenny engaged in a bizarre offensive rant after continuously spreading conspiracy theories and blaming the Coronavirus on 'lying rich white men'.
In one of her latest dangerous and misleading videos, Kenny berated Brexit, stating that it had only come to pass because white men and politicians had lied to the British electorate, before going on to give some of her views on the current pandemic that has so far claimed over 52,000 lives in the UK alone.
"Brexit was done because we got lied to. The Tories getting in by a landslide was done because of lies" she said. "…there's a group of people who want to take over the world behind the government. Again, even though that sounds conspiracy-based, just think about this – colonialism; our entire history, rich white men have always wanted to take over the world. So it's no big deal. It's nothing new".
"There's always been people behind the scenes pulling strings with money and bribes and wanting things to be done their way" Kenny continued, trying to weave an odd connection between the past and the current pandemic. "That IS rich white men for you" she then offensively stereotyped again. "They've always lied to us. They've rarely had our interests at heart…. so you're awake, and you're seeing it… and we're going to pull them back in check".
Kenny has also been retweeting anti-vaxxer comments and accounts almost daily to her 56,000 followers and producing other dangerous videos, including one in which she told her audience that a Coronavirus vaccine 'really isn't necessary', that she would not be letting her children have the vaccine, and promoted the idea that people should refuse to take it.
When challenged about her comments and particularly over her seemingly racist claims against white men, the Radio 1 contributor and resident psychologist on ITV's This Morning, along with her husband, threatened legal action and claimed that racism towards white people does not exist because white people 'are not the minority'.
Kenny then tried to blame racism on 'white privilege' and made the unfounded claim that racism only exists within hierarchal societies, and once again accused white people of having 'privilege'.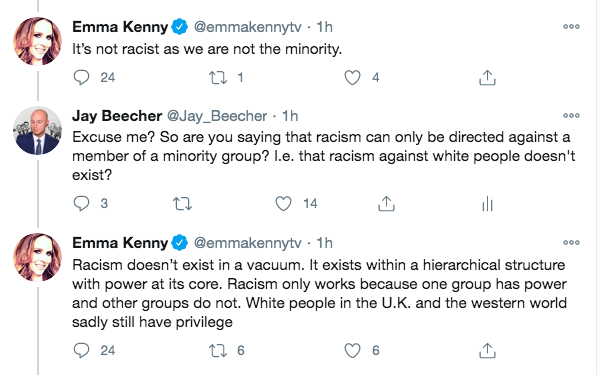 When other Twitter users began to challenge her wild claims, Kenny stated that a white person being attacked over the colour of their skin is a 'hate crime', but refused to say that it was racism, despite being asked several times to do so.
In a further twist, Emma's qualifications and credibility has been questioned by practising psychologists & NHS staff, including Dr Sharon Lambert and Roshana Mehdian-Staffell.
VoteWatch has reached out to the BBC and ITV for comment.